We provide you with a nature-friendly way to love your skin to the fullest.
Sintra Beauty is a sustainable company that creates products that are effective, nature-friendly, and suitable for all-skin types, even sensitive skin. That's because we make sure that all the ingredients we use are high-quality and collected from natural sources. From soaps to body butters, we are proud to offer you a range of products that will never fail in soothing and nourishing your tired skin!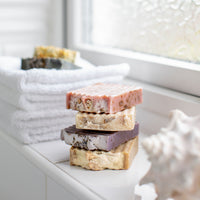 SOAP
Here at Sintra Beauty, we prioritize your well-being and satisfaction while remaining kind to Mother Nature. Our soaps are enriched with the best natural ingredients to cleanse, hydrate, and soothe your skin. Eco-friendly, skin-friendly, and highly effective, our six soaps are guaranteed to satisfy you.
Explore range
SKIN CARE
SKin is the largest breathing organ and requires constant care and nurturing .Our skin care range is hand made to perfection with vegan and organic ingredients to restore your skin to its natural glory without any toxins. If you are looking for clean,plastic free ,vegan skin care that actually works you have come to the right place.
Explore range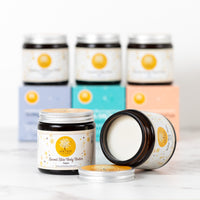 Our customer reviews
"I have been using oils and oil based skincare from different brands for over a decade. I have recently discovered Sintra Naturals it is my new favourite brand! So far I have used: Neutra Stick Unscented, Acai serum , All day Balm, Rose Hand Cream, Exotic Hair Oil, Luminous Massage oil, Rock on Balm.

What I like the most about the products I bought is:

the feel on my skin and how my skin feels after using them – lightweight, non greasy, moisturised, comfortable,  like a velvet!
the smell – it is very gentle and pleasant for me (I am very sensitive to fragrances even those natural ones of essential oils)

Anna
Dear Sintra

Can i please just say that the soaps that i purchased from you are amazing.I was really impressed how long the bar lasted ,especially because they are 100% natural.I had four different types and loved all of them.they also made my bathroom smell fresh .thank you so much a very happy customer.

Amanda K
Being a fellow maker, I love to support other makers. We are driven by a need to improve something we find lacking in the world, so I tried this beautiful soap. I did not expect to be surprised. I've tried many soaps made with pride and care and liked them. This one is different. It honestly does not dry your skin. I have never used a soap, even the most carefully and lovingly made, that did not dry my skin at all. Here it is. A little miracle.

jamie Austin texas
Sintra Natural soaps are TRULY AMAZING! I have used a few kinds now and love each one. I live in a very dry climate and have been searching for years to find a moisturizing soap that does leave a sticky residue. These are very mild and great for all skin types, even sensitive skin. These soaps have been great to use year round and I can finally say goodbye to dry, flaky skin. 

As someone who despises using lotion or body butter for the fear of that sticky feeling, I was very hesitant to try something as thick as shea butter for my dry skin. I am so glad I tried the Sintra Naturals shea. It has done wonders for my skin. My skin is wonderful hydrated, with no sticky feeling after. I have been able to use this even in the most humid season without feeling heavy. This is definitely more moisturizing than any other cream or body butter I have used before, but doesn't leave the same sticky residue as other things I have tried in the past. Skin feels and looks great after just a few uses. I have used this in extreme humidity in the summer as well as the very dry winter, and love it. Great product!

Rohitha Dallas
100% NATURAL & ETHICAL
CRUELTY FREE
EXPERTLY HANDCRAFTED & GLYCERINE RICH
PALM OIL FREE
Instagram
Join us @SintraNaturals to discover new launches, complimentary delights, and expert tips on Ayurveda and beauty.
@ Follow us on social media and use #SintraNaturals