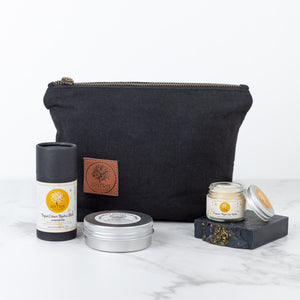 Gifting for men is always associated with buying something black ...this is one colour we can never go wrong with the men in our life.
So taking this colour theme we have curated a gift set for men which would definitely win the hearts of men in your life whether its our beloved dad , husband /boy friend  or the wild son and of course the besties .
This gift set comes in a black upcycled wash bag and has the following:
1. CHARCOAL SOAP
2. UNSCENTED DEODORANT (35ML)
3. MENS ALPUROPOSE CREAM 
4. VEGAN ORGANIC LIP BALM
We have curated these products keeping in mind the day to day self care needs of men 
CHARCOAL SOAP :  Made with shea butter and peppermint infused olive oil this soap is gentle and deep cleanses and gives that fresh feeling all men crave after a shower. Charcoal soap is good for general and extreme sweat too.
UNSCENTED DEODORANT: Our award winning baking soda free deodorant is one of our best seller especially among men who usually dont like the floral or citrus scents we get from natural aromatherapy based deodorants. This deodorant is guaranteed to keep you odour free even in extreme sweat conditions.
MENS ALLPURPOSE CREAM: This best selling cream is specially made to meet mens skins and is non greasy and keep you hydrated without clogging the pores must have in your skincare pantry. can be used as a facial moisturiser as well as targeted treatment for elbows or any dry patches .( one customer used it as a chaffe balm with great results).
VEGAN ORGANIC LIP BALM: One thing every man needs is a lip balm to keep the lips safe from environmental factors and from smoking too. Made with cocoa butter and organic almond oil this is a must have product.
Plastic free - ethical gifting - upcycled - vegan 
what more do we need  this bundle is a epitome of eco-friendly gifting .